Rani Lakshmi Bai (Queen of Jhansi)
Rani Lakshmi Bai
Rani Lakshmi Bai is one female leader of the Indian Freedom Struggle that everybody knows. She was one of the important leaders and planner of the revolt of 1857 against British rule. She is a symbol of women's empowerment and a respectable queen of India. Lakshmi Bai was born in a Brahmin Family on 19th November 1828 in Varanasi.
Moropant Tambe was Lakshmi Bai's father who was a courtier and advisor to Peshwa Bajirao 2. Her mother's name was Bhagirathi Bai and she was a housewife. Lakshmi Bai's childhood name was Manikarnika and father used to call her Manu with love. Her mother died when she was 4 years old, and her father died when she was 8 years old. Her uncle took her responsibility when her parents died.
When Lakshmi Bai was 14 years old, she was married to Raja Gangadhar Rao. Gangadhar Rao was the king of Jhansi and she got her name Lakshmi Bai after marriage. Raja Gangadhar Rao taught her martial arts, horse riding, and fighting with a sword. She knew different languages and was fluent in Hindi, Marathi, and English.
In the year 1851, when Laksmi Bai was only 28 years old, she lost her husband. Raja Gangadhar Rao died without a son and there was no heir to rule. Here we see 2 policies that were introduced by Biritish East India Company, Subsidiary Alliance and Doctrine of laps (will discuss in upcoming posts). They had an adopted son and as per Doctrine of Laps, British East India Company refused to accept his adopted son as Jhansi's heir.
The British East India Company attempted to take the kingdom of Jhansi since there was no one to rule it. Rani Lakshmi Bai, on the other hand, refused to submit and battled against British control. "I will not give up my Jhansi," she famously said. She was a key player in the 1857 Indian rebellion. The 1857 revolt is also known as the First War of Indian Independence. She was one of the primary leaders.
Rani Lakshmi Bai led her army in several battles, including the Siege of Jhansi, and became a symbol of Indian resistance to British rule. She disguised herself as a man and rode into battle on horseback, rallying her warriors and terrifying her opponents.
Despite Rani Lakshmi Bai's brave and courageous efforts, the British eventually conquered Jhansi, forcing her to flee to Gwalior. She fought against the British forces there until June 18, 1858. She was severely injured during a battle and died. Defeating her was difficult and she held British army for a long time, however, her brother-in-law Dulhaji Rao (Brother of Gangadhar Rao) betrayed her and helped British Army.
Rani Lakshmi Bai is respected in India as a national hero, and her bravery and sacrifice continues to inspire people even today. She is known as "the warrior queen of Jhansi" and known for her role in Indian freedom struggle. Many novels, movies, and television serials have been created on her life, and she is still regarded as a significant figure in Indian history.
The Fort of Jhansi
Jhansi Fort is a medieval fort in the Indian state of Uttar Pradesh. Raja Bir Singh Deo of the Bundela dynasty erected the fort in the early 17th century. It is located on a hilltop above the city and is one of Jhansi's most recognizable monuments.
The fort is historically significant since it was the location of multiple fights during the 1857 Indian rebellion. Rani Lakshmi Bai, the queen of Jhansi, led her troops in a hard fight against British soldiers here. After a protracted siege, the British ultimately took the fort, forcing Rani Lakshmi Bai to evacuate the city.
Today, the Jhansi Fort is a famous tourist attraction, housing various museums and exhibitions highlighting the region's history and culture. Visitors may visit the fort's numerous components, including the palace, temples, and armory. The fort also provides breathtaking views of the city and surrounding countryside.
I have visited the fort of Jhansi and the view and the history are enough to give you goosebumps. There is a place in the Jhansi Fort from where Lakshmi Bai jumped riding her horse and her adopted son tied to her back. Believe me, this will make you respect her more. I will write my experiences in a different post.
How did Rani Lakshmi Bai die?
During the 1857 revolt, Rani Lakshmi Bai fought bravely against the British East India Company. Despite her brave attempts, Jhansi surrendered to British soldiers in March 1858.
Following the capture of Jhansi, Rani Lakshmi Bai, accompanied by a group of loyal warriors, managed to escape the city. She sought to continue the fight for independence and joined forces with other rebel leaders, including Tatya Tope and Rao Sahib, in the region of Gwalior.
After Jhansi was captured by British forces, Lakshmi Bai managed to escape the city accompanied by a group of loyal warriors. This was to accumulate more forces and fight back. During the revolt of 1857, she joined the forces with other rebel leaders including Tantya Tope and Rao Sahib in the Gwalior region (Madhya Pradesh, India).
On June 17, 1858, the rebels fought with British soldiers in the Battle of Gwalior. Rani Lakshmi Bai fought on the front lines of the war, displaying exceptional bravery and leadership. She was critically injured, though, during the intense battle. According to historical sources, she was riding on horseback and engaged in a fight when she was hit by a bullet. Despite her injuries, she refused to give up and fought until she died.
Accounts say that after being hit by a bullet, she started fainting and started losing her senses. Then only a sword hit her, and a part of her head was severed with one eye and she died. Her body was brought to Baba Gangdas's Cottage by the Pathan Army of Jhansi, and hermits where performed queen's last rituals.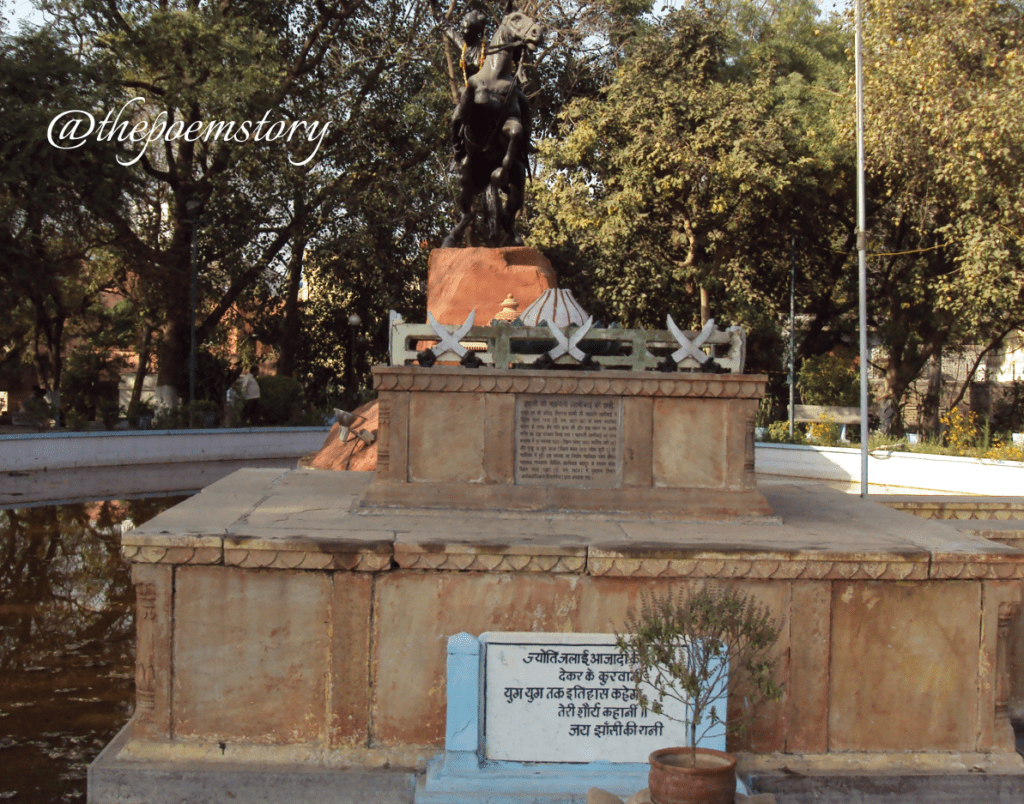 Rani Lakshmi Bai in India's Freedom Struggle
Rani Lakshmi Bai played an important role as a leader in the Indian Revolt of 1857. She is known and respected for her bravery, patriotism, and will to oppose British control.
When the British captured Jhansi, Rani Lakshmi Bai refused to acknowledge their authority and continued to administer her kingdom autonomously. When the Indian cause erupted in 1857, Rani Lakshmi Bai banded together with other rebel leaders and expressed her support for the cause.
The people of Jhansi rose up and battled heroically against the British under her guidance. Rani Lakshmi Bai armed herself and led her warriors into combat. Despite being outnumbered and facing superior firepower, she managed to repel British soldiers for several months.
Following the loss of Jhansi, Rani Lakshmi Bai continued to resist the British, commanding her men in various battles across India. Many people were inspired to join the revolt by her bravery and sacrifice, and she became a symbol of opposition to British tyranny.
Although the Indian Rebellion of 1857 failed to achieve its aim of Indian independence, it did establish the framework for future liberation struggles, and Rani Lakshmi Bai played an important part in this effort. She is regarded as a national hero and remains an iconic figure in Indian history.
Summary
This is a short article on Rani Lakshmi Bai: The Brave Queen of Jhansi. Her life was not simple even as a queen. There are many stories of her valor and courage. She is a leader and in my opinion the greatest female leader to inspire the generations. It is sad that the young generations do not even know about this sacrifices.
When I imagine the battle scene of queen being hit by a bullet and her head chopped off, I feel a deep regret in my heart. Whatever that bullet was and whoso-ever was fighting with that sword, was unaware about what they are taking from the world. However, if there were no tough times, we would have never know such a great fighter. Isn't it? What do you think?
There were many kings in Gwalior itself, who favored Britishers and their families are still flourishing. There palaces are still beautiful. They could have helped the queen, but, they did not. They are traitors and will I personally have no respect for them.
Indian history is full of brave kings and queens, however, it is filled with traitors and selfish people at the same time. Behind, every failure of a brave king, there is a traitor.
Will come up with more stories on Lakshmi Bai. Please keep reading our posts.
Books on Rani Lakshmi Bai that you can by from amazon.
Follow us on social media.
---
Keep Reading Posts on Our Site: https://thepoemstory.com
Our YouTube Channel: https://www.youtube.com/channel/UCSANvMpkQUpypMRYzaNqZwg